So I'm reading this article in today's Wall Street Journal about the San Francisco 49ers stretching regimen and how they have the lowest injury rate, in terms of games missed, in the NFL. There are two pictures of a trainer helping athletes stretch further than they can supposedly go on their own.
The article then talks about how the 49ers are just doing simple stretches from grade school P.E. or stuff they learned to do before playing Pop Warner football.
Mmmmm hmmmm. Tell me another whopper, would juh?
In the photos they are doing assisted stretches. Since when do you stretch that way in third grade?
The reporter hints that the Niners don't speak much about their routine as its a proprietary trade secret. And then there's some yapping about many men thinking that stretching is sort of femmy. It's for chicks – not dudes.
You might as well toss out the writer's words and go by the adage "a picture is worth a thousand words." If big, tough and fast football players who are dominant are stretching, and they're playing the best ball, with fewer injuries than they have in 18 years, well then, bring on more stretching.
Let's be serious: the 49ers may think they've got some mysterious secret – and perhaps they do when compared to other NFL teams. But not when compared to the FureCat.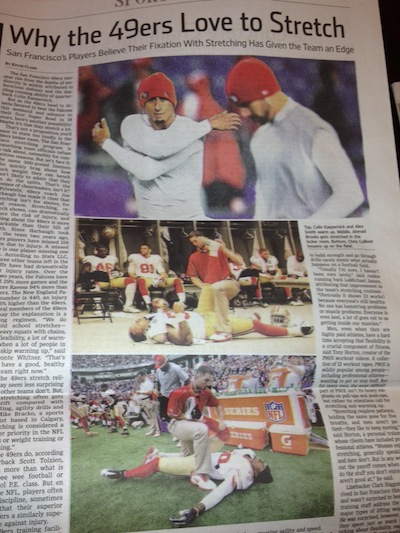 In my Combat Stretching program, you'll learn more about stretching and superior flexibility than most players on the Niners. And for sure you'll know more than the reporter who wrote the piece.
Most importantly, you'll get more flexible as well as stronger at the same time. And when this happens, aches, pains and stress tend to fly out the window.
Make sure you place your order NOW so that you get the double bonus of receiving the Combat Conditioning System gratis. That's right – two best-sellers for the price of when you act immediately.
Best,
Matt Furey
P.S. Offer limited to first 50 people who grab this offer now and say yes.