The New Psycho-Cybernetics
The Original Science of Self-Improvement and Success that Has Changed the Lives of Over 30 MIllion People
Maxwell Maltz, M.D. F.I.C.S.
Edited and Updated by Dan S. Kennedy and the Psycho–Cybernetics Foundation, Inc.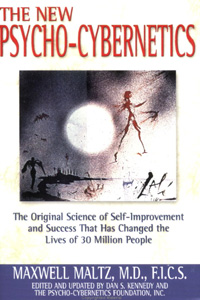 The Dr. Maltz Promise: "If You Can Remember, Worry or Tie Your Shoe, You Can Succeed With Psycho-Cybernetics!"
Since its original publication in 1960, the powerful Psycho-Cybernetics program has helped millions of people achieve life-changing goals – from losing weight to dramatically increasing their income. Newly updated to include changes in our lives that have occurred since it was first written, The New Psycho-Cybernetics remains true to Maltz's visionary approach and proven groundbreaking techniques.
Whether your goal is to lose weight and keep it off, excel in sports, achieve extraordinary entrepreneurial success, or become an exceptional sales person, you'll accomplish virtually any goal quickly and easily with The New Psycho-Cybernetics.
Discover:
• How to awaken your automatic success mechanism
• Dr. Maltz's 'theatre of the mind' to help you sell or negotiate with confidence and power
• How to de-hypnotize yourself from beliefs that hold you back
• Why willpower fails and how to use relaxation to succeed
• How to live more courageously
• How you can acquire the habit of happiness
• Actor Chuck Norris' technique for canceling out negative thoughts
• How to give yourself an emotional face-lift and instantly look and feel 10 years younger
• How to free yourself from inhibition
• Do-it-yourself tranquilizers that bring peace of mind
• Olympic champion diver Greg Louganis' secret for stopping situational anxiety in its tracks, and learn how to have confidence on demand
The New Psycho-Cybernetics includes 31 prescriptions and mental training exercises that will help you put Dr. Maltz's teachings into practice.
Order now and you'll also be sent a sample of the Psycho-Cybernetics monthly newsletter and visualization program – a $39.95 value – yours free with your order today.
The New Psycho-Cybernetics – $22.00 plus $6 S&H U.S. – $12 S&H foreign